Is traveling a privilege? And if so, what is WiFi then?
In year three after Corona, travel is definitely back as a popular sport. The desire to travel is stronger than ever before. Booking portals, travel agencies, and tourist businesses are registering the same amount of interest, even more, than before the momentous lockdowns. Depending on what's on offer, booking numbers are through the roof, but at the same time more and more service providers are having difficulty coping with the rush of guests. Airlines are canceling flights due to staff shortages, passengers without reserved seats are no longer allowed to board trains, and hotels are taking extra days to close their infrastructure.
LESS SERVICE FOR MORE GUESTS?
Those who are disappointed by quality deterioration of the services offered, based on the experience of previous years, will gnash their teeth even more in view of the large-scale increase in prices: Accommodations, restaurants, air and train tickets, all more expensive than ever before. When tempting ads promise a dream vacation, one can only roll one's eyes in resignation.
While queuing in an endless line at economy check-in at the airport, the obligatory two hours beforehand, and still wondering whether you'll make it in time for departure, the harsh reality will hit us. And one question stubbornly forces its way to the fore: Will we have to book business or first in the future in order to travel in reasonable comfort? And who will still be able to afford all that?
Well, when flights are cancelled and delayed, business or first class doesn't help much, as was recently the case at Innsbruck Airport. But WiFi with the IACBOX to pass the waiting time came in handy – which brings us to the central point of the story.
A QUESTION OF RESOURCES
As with full airplanes and fully booked hotels, it is primarily a question of resources whether you can get online or not. Airports usually have a very good connection to the Internet, known as an uplink in tech-speak. With hotels, the situation is more differentiated: Are we in the city, or in the paradisiacal but secluded bay of a dune nature reserve? By the way, here you can read more about WiFi in vacation paradises, with a survival guide for smart vacationers!
But unlike a seat on a plane or train, guest WiFi is not a strictly defined size per guest. Another significant difference is that not everyone is always online at the same time, and they don't all take up the same amount of space, which is why good management (of bandwidth) can make a huge difference. And similar to the better legroom in business class, guests in the upper price range can also be offered that significant little bit more.
OVERBOOKING AS A GROWING PROBLEM
Free WiFi has long been one of the most important filter criteria on online booking portals, and there are hardly any hotels left that don't offer it. As natural as running water, they often say. Nevertheless, it's worth considering how to deal with the limited bandwidth that even the best-connected house inevitably has in the long term. Data consumption is increasing exorbitantly, and those who don't set limits will soon experience how the uplink goes down when several guests stream movies or play online games at the same time.
Running water is by no means equivalent to a private jacuzzi for every room, or even a bathtub. Therefore, the trend is toward differentiation, and it certainly doesn't hurt to include this in guest communication. Those who want better service simply book a better rate.
CLEVER RESOURCE MANAGEMENT HELPS
So is WiFi in the hotel a privilege? Not really. In an environment where international guests flock and making phone calls or checking e-mails via cell phones can be very expensive, there is no alternative. And every hotelier is happy when guests share great pictures from the resort on social media. So it's all the more important to make sure that everyone can do that, not just the first ten to log on. A system with smart bandwidth management like the IACBOX does this. It can also prioritize certain devices/users, making premium WiFi service not an empty buzzword but a real privilege.
You want to know more, use the IACBOX in your house? Just ask one of the professional IACBOX partners in your area. In the #iacboxfamily best advice is capitalized.

Did you know? Not only Innsbruck Airport, also Voula Beach, one of the most beautiful city beaches in Athens, offers now a WiFi hotspot with IACBOX.
---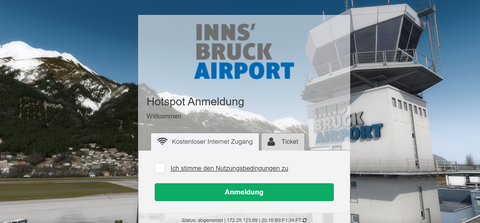 WiFi with IACBOX at the Airport Innsbruck
Are you an entrepreneur looking for a solution to these requirements? Or are you a service provider and advise companies on wireless or wired network solutions?
Let's start a project together